"My mother told me her story about her first and terrible menstrual experience and each time I remember it, l just want to go round the world and create a Menstrual free community "these are the words of Prodencia Asanga, the president of the IZAM (Eagle) Charity Association in Cameroon Douala City.
Not long ago on the 28thof may this year the world marked the menstrual hygiene day going with the theme 'making menstruation a normal fact of life by 2030'.Period stigmatization is not a new occurrence but has been going on for the longest time as women all over the world with different economic, social, and religious backgrounds have been victimized because of something that's beyond their control. This, in turn, has resulted in their social exclusion, health issues, period poverty, pollution, poor menstrual hygiene, and health issue among other degrading effects.
Those are things that Prodencia is way too familiar with from her mothers own experience which she says was the motivation to begin the association that aid young girls and women to coup with menstruation challenges as well as sensitize the community on the same.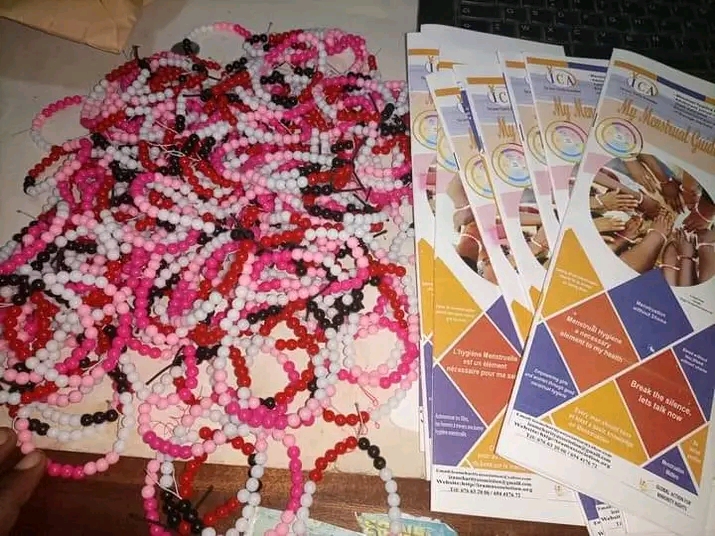 "My mum's first menses came when she was 15, it was in school, and she had never heard nor even seen anything about Menstruation. When she saw blood running down her leg and staining her dress she was terrified. Other girls and boys after seeing her state isolated and bullied her. To them, it was a sign that she had had sexual intercourse. And though she managed her way home through the bush that was the last day she ever set foot in school. That's how her school ended, simply because she was bullied for it," she narrates.
UNESCO report that one in ten girls in Sub-Saharan Africa misses or drops out of school altogether during their menstrual cycle. By some estimates, this equals as much as twenty percent of a given school year, and the cycle continues even now as Prodencia explains.
"It might interest you to know that decades after this myth, Menstruation has not been broken even past my mother's ordeal and many young girls are still facing the challenges of not having sanitary pads when that time of the month comes. I grew up in that same setting completely immersed in traditional beliefs where Menstruation was still a taboo, sex talks forbidden; l watched many youths even my peers make sexual choices without knowing the consequences it could have on their future hence so many teenage mothers dropped out of school and pushed into early marriages. And that was what motivated me to focus on three key areas which include; to Advocate for Menstrual Hygiene management, adolescent sexual reproductive health education and also the empowerment and re-integration of teenage mothers," she says.
 She started the sensitization way back in 2004 after graduating from the University. Each holiday she would gather the youths around any neighborhood where she went for holidays and talk with them and officially registered the association in 2019 after authorization by the government. Since then she has reached out to over 1500 women and girls within the city and its state not only through sensitization but also demonstrations and distributions of sanitary pads, Cotton Pants and menstrual hygiene guide booklets, a Workshop on strengthening the capacity of 30 young girls by teaching them how to sew reusable pads.
"We were also able to distribute school items to 30 kids of IDP mothers who ran away from the unrest in the northwest region Bonaberi Douala littoral,"she adds.
Empowerment of teenage mothers hasn't been easy after they identify them, as parental consent sometimes isnt guaranteed.
"We work this in two phases, first we talk to their families, which sometimes is a cause of conflict, because they want to send them into marriage as a way of running from the shame their daughter brought to them.The parents or gurdian that finally agree and see reason we work hand in hand with them getting accomodation together with their child so that they can continue with education which means either going back to school or getting professional training to later on get a job,"she explains.
As for those whose families are not ready to let their girls go back to school or have completely abandoned them, the association tries to raise funds to open a small business immediately. A notable one is opening a (mini shop) for a teenage IDP mother from the northwest region with 6 kids under her care in Bonaberi Douala littoral region.
"It will be heavy to train them, house, and feed them and their kids, so we just teach them how to fish. But our flight is also to really minimize the number of teenage mothers out there through our adolescent sexual reproductive health education teachings, but as you know, no matter how much you shout, some will still go out there to try. So if you look at our activities it's a chain inorder of merit,"she said.
To fund the projects the association has to rely on donor fund in kind or cash as well as chip in sometimes from their own pockets to try and keep the activities afloat .Its not been easy but Prodencia says it's a calling she feels proud to partake in.
"Some friends who knew my passion long ago support me all the times, even strangers who come across our activities support us. I also put in my little what I have to make things work. It's a passion; it's something that's close to my heart.I am however searching for other means to raise funds that can make us run sustainable projects, it's not easy but we remain positive,"she adds.
Other challenges she and her association face include insecurity in the two anglophone regions of Cameroon that hinders their operation in those regions .And people are still Menstruation shy, it's still a taboo. Getting youths to come for an awareness campaign is not easy they still don't want to talk about Menstruation openly.
"I remember in one village, we expected about 250 youths, but we had just about 125, those are the ones that had been strictly instructed by the Reverend father to attend. We had to go down the village market and convince parents to send their kids to the hall .One mother outrightly told me her daughter of 14 years cannot attend that we don't have shame to the point that we are gathering youths to talk about blood in public I gave up,"she laments.
But why do you think up to now such issues not only in relation to menstruation but even child marriages, FGM and other social evil still continue to be on the rise despite the awareness campaigns held all around and individuals and organizations in different places in the world are availing platform to aid in such matters? Her answer to that had a deeper meaning that reflected to not only her country.
"It's a sign that we still need to intensify work, unfortunately, the means are lacking. Our leaders prefer arms to humans. Sometimes the means are there but are allocated to the wrong persons, they never go to the field, they come to social networks, Google, pick one or two pieces of information do a documentary and they consider the project done, it's wrong. Our leaders too are not doing us justice; funds are poorly allocated to projects of less relevance, "said Prodencia.
"I have a team that can do at least 3 sensitizations every week, but who will give you the means, l have gotten to project writers, but when they do, l find it difficult fitting myself into the project because it's mostly paperwork, it's not what I want. I want to go down there, talk, feel touch and make sure the lessons have gone through. but the focus is on paper. And a friend told me, Prodencia you will stay at this position for long because that's not how it works," she explains.
Despite all that, she is proud that what the association does has left footprints on those they've reached out to.
"I can tell you every community where we have passed with our sensitization, has changed lives. The youths we trained to work with us last year organized an MHD in their community, they only reached out to ask for menstrual hygiene kits and training materials. I was so impressed that I planted a seed and it germinated," she proudly says.
In her community, she has already been ordained the name Aunty Menstruation a proud name she is not shy to heed the calling when called by. And in her legacy she wants the association to raise more warriors to conquer menstrual poverty and bullying for a sustainable future.
"I am a purely traditional woman, who respects all the traditional values I was brought up with about marriage, the girl child, etc. But I am an activist who has chosen to put both cards on the table and look for a balance. You don't come and wipe people's traditions away completely because you think yours is better, no we look for a balance. Already in my community, they call me Aunty Menstruation I would want us to be remembered for breaking the silence, participating in the normalization of Menstrual education in our communities, and also providing for the needy. I would like that even after me, the flames should never die, I fact to be remembered for fighting against Menstrual bullying," she concludes.