By Duke Omole


For the past two decades, Juma Iddi has been earning a living by transforming waste wood into unique furniture. The craftsman based in Gikomba was 19 when he ventured into making furniture and soon realized the high cost of sourcing freshly cut wood. When he learnt that used wood would end up in landfills or get burnt, he knew that it was an opportunity for him to make furniture at low cost while protecting the environment.

"The idea to reclaim wood to make furniture was born out of a lack of an alternative. But then I realized that furniture made of recycled wood saves costs and is as good as that made from freshly cut wood," says Iddi.
The 46-year-old has established himself as an expert in salvaging wood considered to be waste and making furniture pieces that are as good as new. Iddi also specializes in modifying and refurbishing old furniture. His clients pay between Ksh. 15,000-25,000 for refurbished pieces of furniture. His products include sofas, dining tables, chairs, stools, cupboards, portable closets, benches.

Stools are among the cheapest custom-made products he makes with each costing at Ksh. 300. Dressing tables, portable closets and cupboards are among the popular products that he refurbishes. Iddi says that he sorely uses heavy ply boards from used cabinets and partitions to fix kitchen cabinets.

Recycled wood has helped in cutting down the production cost for Iddi. "The cost of the used wood depends on the type. For example, a piece of 2 by 2 inches used cypress wood costs Ksh. 13 while a similar size of virgin wood costs Ksh. 25," says Iddi.
Besides being cheaper, recycled wood is easier to work with as it requires limited polish and dries faster compared to virgin wood. It can also be reused severally and avoid cutting more trees to make furniture.

The demand for new furniture, has led to massive deforestation both locally and globally. According to United Nations Environmental Programme (UNEP), every year the world loses 10 million Hectares of forests. The massive deforestation and forest degradation accounts for 11% of carbon emissions.
Efforts such as those made by Iddi could go a long way in ensuring that more trees are not cut unnecessarily. "Without pre-used wood, I don't think I would be practicing my craft. New wood is expensive and if not curbed soon there will be a major shortage" says Iddi.
Gradually, more people are seeing value in used wood. In Nairobi`s Gikomba market there is a group of traders selling wood from pellets, construction sites, go-down warehouses, and even demolished buildings. "
Recycling wood has seen my business grow throughout the years as I'm able to create beautiful pieces which I sell at a profit. I am happy to know that my business is sustainable and does not lead to felling of more trees," adds Iddi.

The artisan gets most of his clients through referrals, shying away from online platforms to advertise his business. Though there lies great potential in the work that wood recyclers do, Iddi notes that lack of awareness among fellow artisans has limited the level of impact they are able to make.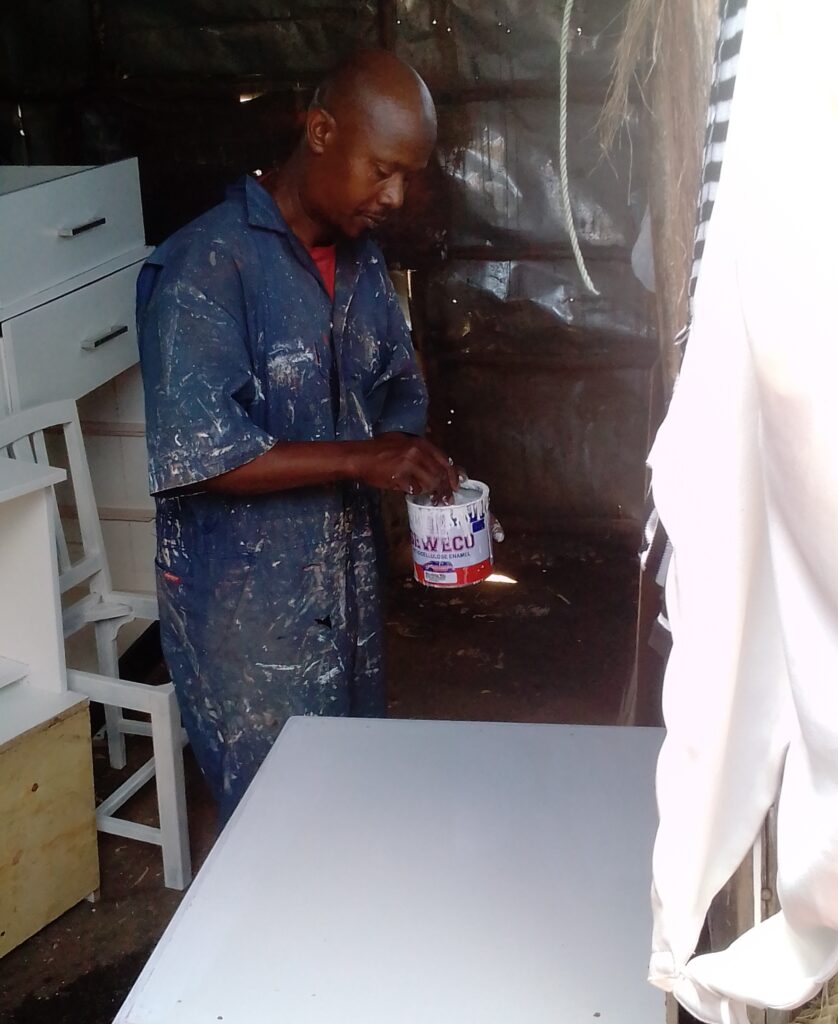 "Groups of artisans that work with reclaimed wood aren't quite aware of the positive impact their trade is having on our environment hence their lack-lustre approach on how they operate business. While other countries have Wood Recyclers Associations, Kenya has none. As such, groups are clumped together with Kenya Waste recyclers, robbing them of their importance as suppliers creating valuable and responsibly sourced wood," he notes.