Kangwana is a boy passionate about journalism and he is willing to do all in takes to achieve his dream. Our reporter Christabel Adhiambo spoke to the student who shared his journey in the field of journalism.

Who is Kangwana?
My name is Charles Onkoba Onkui but most people know me as Kangwana. I am 18 years old, I was born and raised in Kisii county and at the moment I am a student at the Kenya Institute of Mass Communication where I am pursuing a Diploma in journalism. I am also the CEO of Kangwana Media; a home of developing talents.

Why Kangwana?
Kangwana is a name that was given to me by my classmates while in form two. They believed that I was "mungwana" (gentleman) thus the Kangwana name which I have embraced since then. I started Kangwana Media to move my talent to the next level and those of others.

For how long have you been doing this?
I started showcasing my talent in journalism in 2011 while in class three at Mt. Camel Academy. Later on I got an opportunity in my media career from Mosora Broadcasting Corporation in 2017. In 2020 I started my own platform – Kangwana Media.

What motivated you to do what you are doing?
It is because I am passionate about journalism as it is my greatest wish to be among the celebrated journalists worldwide. I got motivated by some of the media personalities from radio and television stations in my childhood and now I am certain that I am on the right path. I love Mashirima Kapombe's anchoring skills, Jalango's interviewing skills, Hassan Mwana Wa Ali's soccer reporting and Mike Nyagwoka. Lastly, I want to use journalism to tell the inspiring stories of young people with unique talents.

What was your vision for starting Kangwana Media?
My aim when starting was to grow with what I have to a big media company that will deliver quality news globally. I am a firm believer in nurturing talents of young people. Thus, I hoped to use my media as a platform for young people to showcase their skills and eventually link them with opportunities.
Any notable story of impact at Kangwana Media?
I once did a story of a certain girl in my village who had completed class eight and scored 316 marks yet, she could not join high school because she lacked the required school fees. Most of the people who read the story got concerned and they donated money for her school fees and built her family a house. The girl is now in a school in Busia.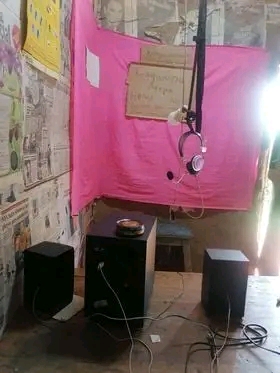 A section of Kangwana's home studio
What would you term as your contribution to youth empowerment in the country, especially those interested in the media?
At the moment, Kangwana Media has 12 volunteer reporters. As a young CEO I have managed to help a good number of talented youth get mentors who have helped them in bettering their talents. I have been featured in different television station and radio station by some of the media personalities that I look up to, for instance Lulu Hassan and Rashid Abdalla. My channel has continued to have increased number of subscribers. My passion for journalism has been recognised and I was among the top 3 journalists in news broadcasting during a talent search where I was awarded a trophy.

What are the some of the challenges that you have encountered?
Kangwana media is currently self-sponsored from my personal finances. My greatest challenge is inadequate finances to sustain my reporters. I also face online bllying from some readers who do not identify with what I do.

How would you want to be remembered?
"Ipo siku" is my slogan, I believe that there is a day for me; a day that all my dreams will come true and I will be where I have always dreamt to be through God's favour. I want to be remembered as a young person who opened the doors for his colleagues in the media and the arts industry at large.